A choice for audiophiles who have a hankering for both the modern and the retro.
Baltic Outlook magazine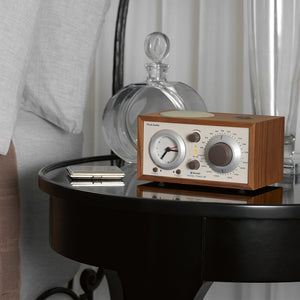 Stream your music from anywhere
Now you can stream your music wirelessly from your Bluetooth-enabled phone, tablet, or computer to the Model Three BT. Simply pair and your device, and start streaming away.
Any clock radio can wake you up, but only Tivoli Audio's new Model Three BT does so simply, elegantly, and in high fidelity sound. And now with Bluetooth wireless technology on board, you can stream before you dream.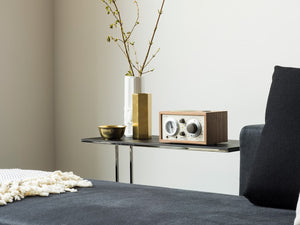 The perfect blend of form and function
Simple hands-on controls to deliver exactly what you want. One knob for your power source, one knob for volume, one 5:1 ratio tuning dial to help you bring in even the weakest stations. The clock can be set with the surrounding bezel, while clock set, snooze and sleep timer are set with just a push of a button.
An integrated USB charging port allows your smart phone or device to recharge without using an additional outlet.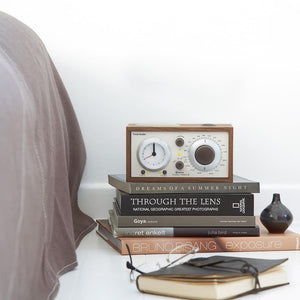 Iconic Tivoli design
The Model Three BT brings all the style and sound of the analog driven Model One® perfectly into the bedroom with the addition of a classic analog clock. The clock was designed for easy setup and use, which is lightly illuminated, so you can see it at night.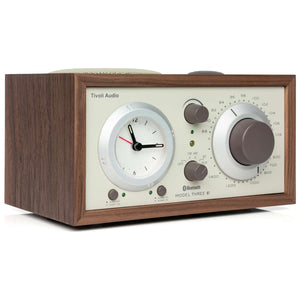 All natural sound
Natural replication of sound. This single top-firing mono speaker delivers the true art form of analog audio. A heavy-magnet long-throw driver is mated to a frequency contouring circuit that automatically adjusts output over half-octave increments, resulting in musically accurate tonal balance and bass response.